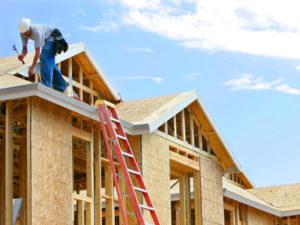 When it comes home buying, one size definitely does not fit all.
As you begin house hunting, the big decision will be whether you want a brand-new home that no one else has lived in or an existing home with some history and maybe a bit of character. When deciding on buying a new home vs. a resale, there are many advantages and disadvantages to both. A lot of it comes down to personal preference.
Today, most new homes are built in developments with a unified style, often with communal areas, and anywhere from a handful to hundreds of homes. Built to the latest codes and standards, they tend to be updated, energy efficient, and more expensive than resale homes of a similar size. Here are some of the pros and cons of new construction:
Advantages to new construction:
Updated style

May have some flexibility on design during construction phase

Cheaper to maintain (new appliances = fewer repairs)

Cheaper to operate (energy-efficient construction)

Extended warranties

A cohesive neighborhood (consistent layout, common areas)

Frequently have a homeowners association (helps protect resale value); may have community amenities such as a pool, clubhouse and walking trails that's included in HOA.
Disadvantages to new construction:
Cookie-cutter design

Higher price (upscale amenities, current construction costs, possible HOA fees)

Limited negotiating room on price

Generally smaller yard, fewer trees

Potential for monthly homeowner dues

Risk of poor construction

Frequently less character because of a homogenous design

Frequently have a homeowners association (can put limits on how you use your property)
With new developments springing up everywhere, it's obvious that new construction is popular. And yet, most people buy a resale home. Of course, there are pros and cons to buying a resale home too:
Advantage of buying a resale home:
Availability: More choices and styles to choose from

Lower price

Price may be more negotiable

Track record: Many repairs already made

Established neighborhood

Older homes may have more character and unique characteristics

Usually yards and neighborhoods have lots of mature trees and established landscaping
Disadvantages to buying a resale home:
More maintenance: Things may break or wear out more quickly

Less energy-efficient: May be more costly to maintain

Dated design, older appliances and amenities

Generally smaller bedrooms, bathrooms and windows

Often will need updating

It has been lived in
Once you find a house you like, consider its pros and cons, both objectively and emotionally. Then think about the compromises you're willing to make. Ultimately, buying a new or resale home will be a lifestyle decision, but a licensed Realtor can help guide you to the right choice for your family and help make the buying process go as smoothly as possible.